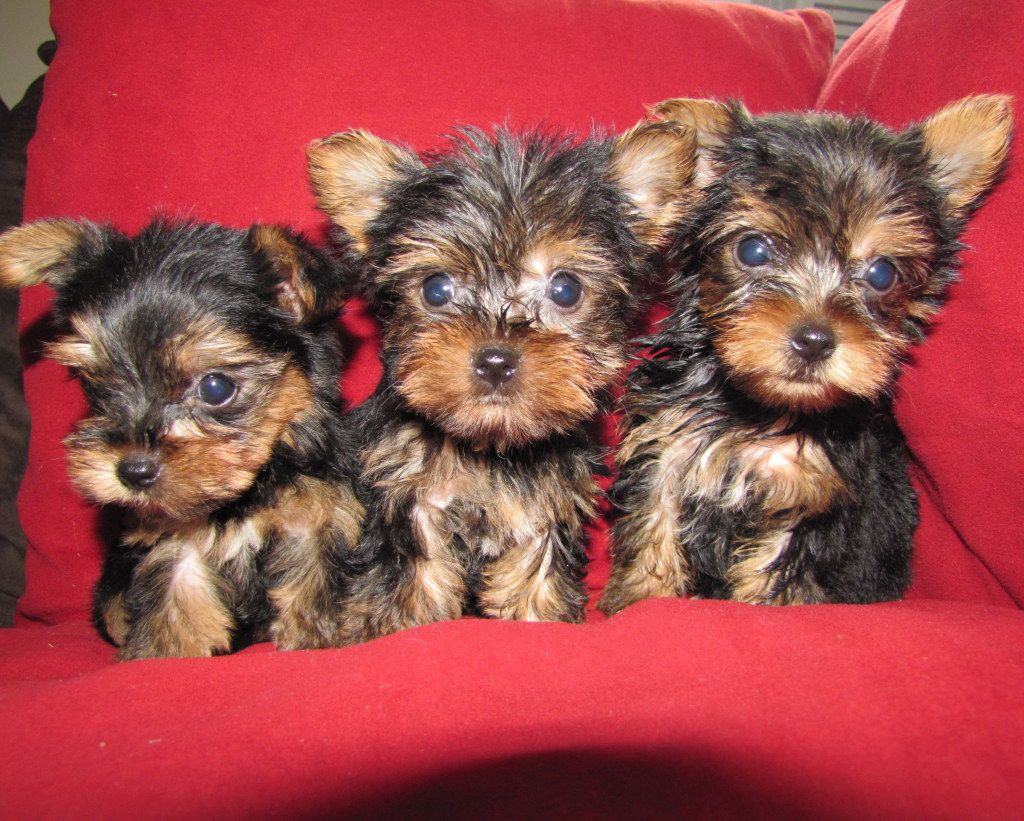 Yorkshire Terrier Puppies for Adoption
These beautiful pups with their silky coats are finally here and ready to go into forever homes.
They are playful and active little boys. After playtime, they look for a soft, warm place to nap...your lap, shoulder, next to you on the couch, etc.
These CKC male pups have had their first shots and wormings. They are 7 weeks old, fully weaned to soft foods, and have been gently socialized by our seven children, other dogs, and curious cats.
Potty training (housebreaking) has been started and is going well using puppy pads. We followed a vet's recommendation and removed dewclaws and docked their tails due to the breed's activity level and fragile bone structure of the tails. The father is a tiny 3 lbs and the mother is 5. These will be teacup (tiny) dogs.
These puppies are very tiny when you adopt them. Their life will literally be in your hands. You will have to take care to protect them from other pets, active children, and your own feet. You will have to check blankets and piles of clothing because they like these places for a nap and will completely cover themselves up. You will have to look before you sit down on the couch or plop down on a bed. If you can not give them the proper care and attention they need, please don't adopt them. Every member of our family puts time, money, and love into these pups. It is our goal to see them bless the people who adopt them with joy while receiving in return excellent care while living long, healthy lives.
As with all of our dogs, we recommend you spay or neuter your pet. We will always take a dog back with the goal of rehoming in case something happens and you can't keep them. We do not want any of our dogs ending up in shelters.
757-525-7892
$675
This is the same puppies at 3 weeks:
(One already has a home waiting and is not pictured above.)